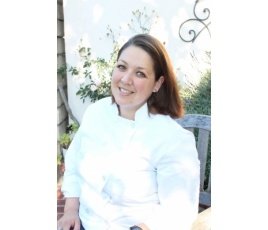 Meet Julia The Founder Of Sweet Alreen's
Food focused and driven by 'that perfect dish', Chef Julia San Bartolome was born a natural in the kitchen. From baking batches of her families traditional Christmas cookies each year of her youth, to volunteering for food preparation at her summer camp, the kitchen has been her home for over 20 years now.
Immediately out of high school, Chef Julia enrolled in the Culinary program at Santa Barbara City College. She excelled in many of the program's classes, but was drawn to the pastry department, and eventually fell in love with the art. With the help and support of her parents, she continued her education in pastries at the California Culinary Academy in San Francisco.
Over the next 10 years, Julia would work her way through many kitchens including major hotels in Las Vegas, Northern California restaurants and Country Clubs, as well as making wedding cakes all around the San Francisco Bay Area.